Spotted lately: clever plate racks in interiors ranging from mod to traditional. (In my next life, I'm going to install one over my sink to hold just-rinsed dishes.) Here are 10 we like.
Above: Katrin Arens makes custom Pallet Plate Racks; go to Katrin Arens for ordering information.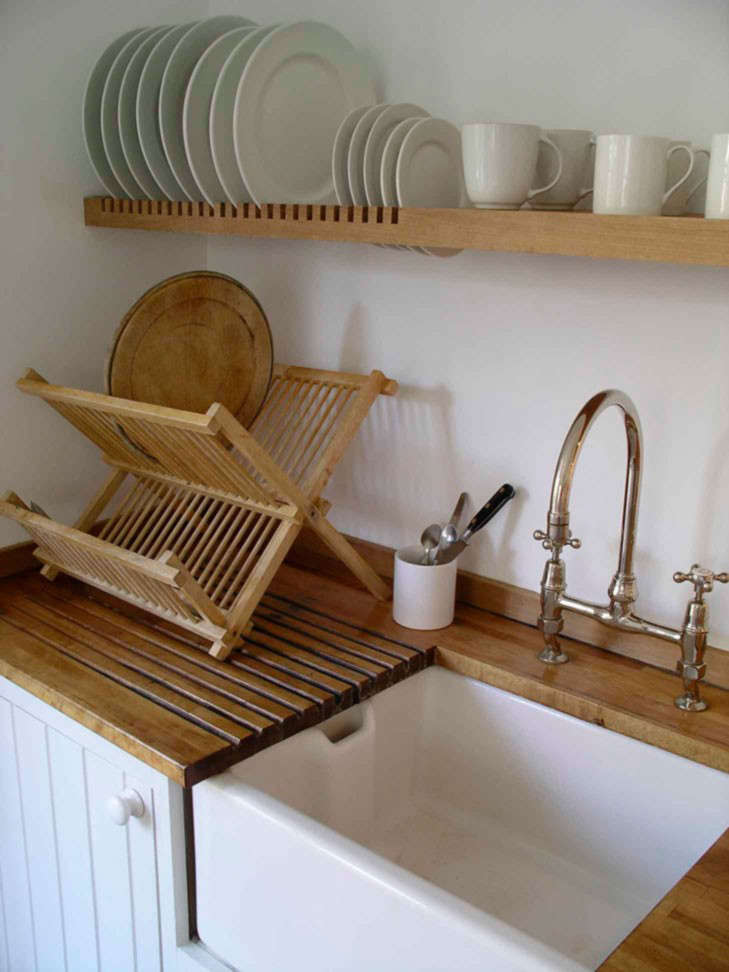 Above: A custom shelf by Peter Henderson Furniture features slots for storing plates. Go to Peter Henderson for more information.
Above: A single strip of wood functions as a plate rack in the British Standard Shepherd's Hut kitchen (being featured later today). Contact British Standard for information.
Above: The Raw Oak Wall-Mounted Plate Rack holds 10 plates and is £225 from Burford.
Above: A plate rack in the Hamptons home of designer Tricia Foley. For something similar, consider the Decorative Plate Display Rack ($195) from Etsy seller Nicolet Wood Products.
Above: The Traditional Wooden Plate Rack is available in three sizes from Nutscene; prices start at £89.
Above: The handmade Wall-Mounted Plate Rack with Shelf is $302.50 from Nicolet Wood Products.
Above: The Hafele Kitchen Cabinet Wooden Plate Rack starts at $90 from Kitchen Source.
Above: The handmade Decorative Plate Rack from Devol is available in two sizes: the small is £310 and the large is £360.
Above The Country Pine Universal Wall Plate Rack is £169 from Jeremy Hill.
More ways to stack and store dishes? See our posts:
• High/Low: The Indian Stainless-Steel, Wall-Mounted Dish Rack
     • 10 Easy Pieces: Countertop Dish Drainers
• 5 Favorites: Space-Saving Dish Racks
Also don't miss: 11 Kitchen Storage Tricks to Steal from the Bathroom.
(Visited 3,289 times, 10 visits today)