I have enjoyed a long- term monogamous relationship with the classic stovetop Bialetti, which is fabulously dependable. Here's a roundup of our favorite stovetop espresso makers; all are made from stainless steel and have a six-cup capacity unless otherwise noted. No surprise, they are mostly Italian.
Above: The Ilsa Stovetop Espresso Maker; $66 for a four cup from Amazon.
Above: The Sorrentina Atomic Coffee Maker (otherwise known as the Atomic) comes with a milk frother. Originally designed by Milanese-born Giordano Robbiati in the late 1940s, it is now in reproduction. Available in the US for $438 from Taylor and Ng and overseas at Sorrentina Coffee.
Above:The Pina Espresso Coffee Maker designed by Piero Lissoni for Alessi. $118 for the six cup, $95 for the smaller three cup.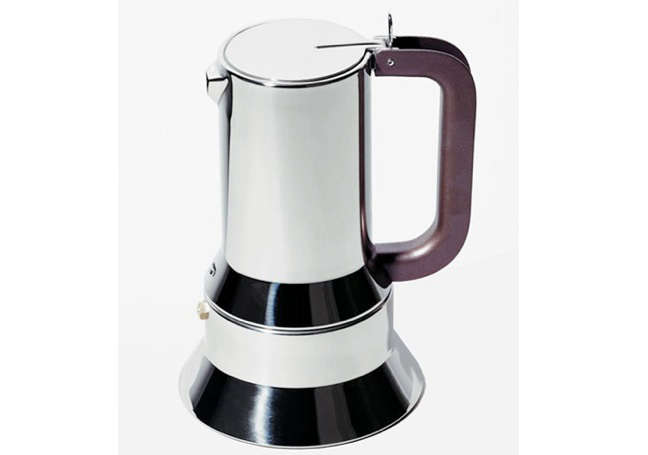 Above: The Alessi Espresso Coffee Maker by Richard Sapper; $184 from All Modern.
Above: Designed by London and Bologna-based Sebastian Bergne, the Maillard Espresso Machine is $160 from DWR.
Above: The Neopolitan Stovetop Espresso Maker works by the drip method. Once the water boils, the pot is turned upside down and the water drips into the pot below. Available in either aluminum or stainless steel; $62.95 from Vieco Kitchen.
Above: The industry workhorse: the Bialetti Stovetop Espresso Maker was invented in 1933 in Italy and is made from cast aluminum; $28.95 form Peet's Coffee.
Above: The Chambord Stovetop Espresso Maker from Bodum; $44.99 from Chef Central.
Above: Designed in 1968, the classic Giannini Espresso Coffee Maker; $170.99 from Amazon.
Above: La Cupola Espresso Coffee Maker designed by Aldo Rossi; $102 from Y Living.
Check out more related posts on Coffee.
N.B.: This post is an update; the original story ran on February 4, 2009.