Last month while Julie was at North Modern in Copenhagen, she found fringe was on everything. Case in point: modern rugs in solid blocks of color with contrasting (sometimes tonal) fringe. It's quickly become one of our favorite design trends for the upcoming fall season. Here's a look at our top 10.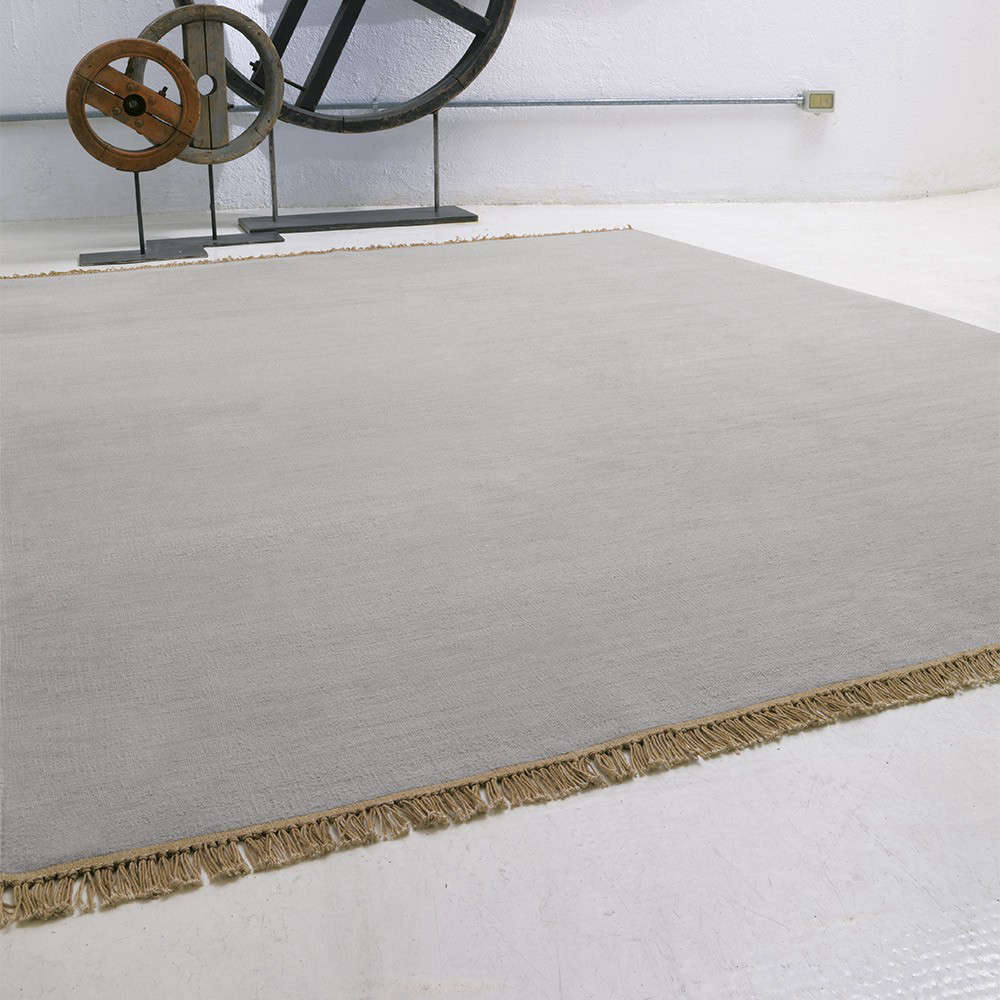 Above: Kinnasand's Vintage Plain Rug is available in 57 color combinations with natural tone or contrasting fringe; $2,610 at the Future Perfect.
Above: The Mattia Rug, designed by Hanne Kortegaard for Linie Design, starts at $750 for the 5-by-8-foot size at Design Within Reach.
Above: The Raw Rug from Hay is available in anthracite (shown), gray, and midnight blue; DKK 3,999 ($600 USD) from Hay. It's also available for $635 at Amara.
Above: Pottery Barn's more subtle Fringed Hand-Loomed Rug in charcoal (also available in other colors) is currently on sale for $119 to $711, depending on size.
Above: The Another Rug in Blue Thunder from design studio All the Way to Paris is a kilim-style rug with salmon-colored contrast fringe; $650 CAD ($492 USD) at Mjölk in Toronto.
Above: The dip-dyed Flux Rug (6 3/5 by 9 4/5 feet) is available at the Future Perfect (online and in New York) for $2,460. It can also be found at Karkula in Brooklyn. For more, see our post Dip-Dyed Fringe Rugs from Sweden.
Above: Designed by Philipp Mainzer and Farah Ebrahimi, the Kavir Carpet, in a rainbow of contrasting colors, is available through e15. See more of the rugs in our post CP03 Kavir Carpets from e15 in Germany.
Above: CB2's Leather Dressage Rug is made of recycled leather from shoe and bag factories; $169 to $349 depending on size.
Above: Designed by Daniel Costa for Danskina, the Fringe Rug in colored wool is available through Danskina dealers.
Above: The Trace Rug, shown in gray, from Normann Copenhagen has a subtle herringbone-inspired pattern embroidered into the face of the fabric. The rug has two sides to it: one solid and one two-tone; $690 at Normann Copenhagen. It's also available for the same price at Horne.
Above: From designer Hella Jongerius for Danskina, the Duotone Rug can be ordered in a range of colors for $50 a square foot from Danskina. You can also find the style in black or cream for $1,750 to $3,900 at Design Within Reach.
Shopping for rugs? See our more in our posts:
(Visited 377 times, 1 visits today)