Last winter, Julie bought a black area rug for her bright and neutral living room, and the decision, she reports, was life altering: "The black rug anchors the seating area in a really interesting way; it's like looking into a pool of dark water." For those ready to make the bold step, here are 10 area rugs in range of blacks. 
N.B.: All prices listed are for the 8-by-10-foot size, unless otherwise noted.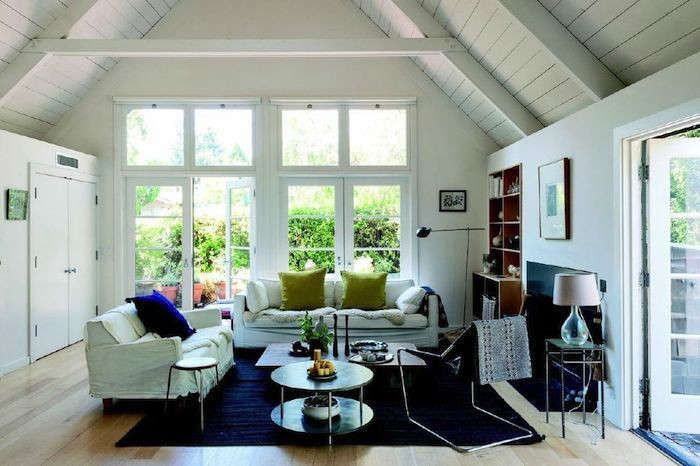 Above: Julie's Mill Valley, California, living room, photographed by Matthew Williams for Remodelista: A Sourcebook for the Considered Home.
Above: Designed by Ben Soleimani for Restoration Hardware, the Lina Rug is a plush linen and viscose blend in dark black; $2,625. For more from the designer, see our post Expert Advice: Q & A with Ben Soleimani, the Rug King.
Above: The Golran Decolorized Rug is a hand-knotted vintage rug that is overdyed in a monochromatic vegetable dye. It measures 10 by 7 feet; $8,304 at The Future Perfect.
Above: Ikea's Almsted Rug is a low-pile black rug woven with a cotton warp (lengthwise fibers) and thick wool weft (widthwise fibers); $299 for the 5-foot-7-inch by 7-foot-10-inch size.
Above: Design Within Reach's Strata Rug in charcoal is New Zealand wool that is hand-knotted using a technique inspired by Tibetan knots; quarter-inch pile height, the rug is currently on sale for $1,020 (marked down from $1,200) for the nine-by-six-foot size.
Above: The Cable & Aran Wool Rug in heather black is currently on sale; prices start at $350 (marked down from $750) for the three-by-five-foot size at ABC Home.
Above: The Jute Boucle Rug in Iron is handwoven in Southern India from dark-colored jute fibers; $349 at West Elm.
Above: The Distressed Wool Rug in Black, currently on sale for $1,035 (marked down from $1,295) at Restoration Hardware.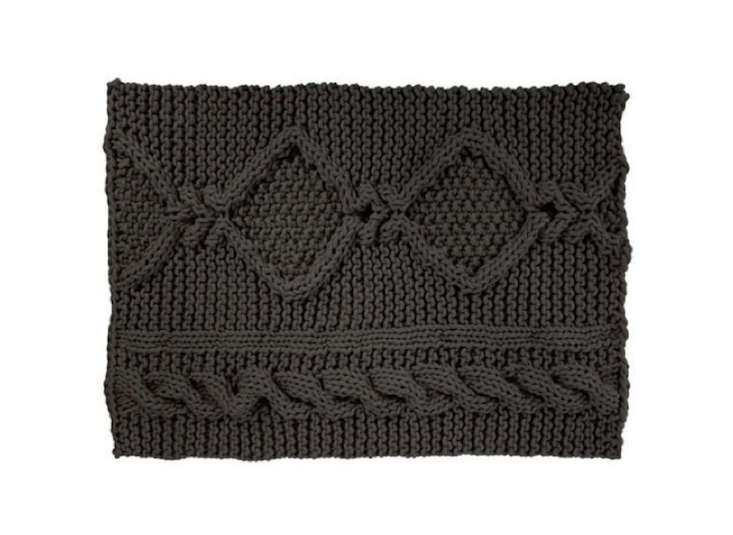 Above: Created by Dutch artist Christien Meindertsma for Thomas Eyck, the Cable Aran Rug is made of texcel (a coarse fleece suited to rugs and flooring) and wool derived from 18 Merino sheep breeds. The dark gray rug measures 7.5 by 10.5 feet and is $11,520 at Loft Modern. For more on the designer, see our post Christien Meindertsma's Artistic Aran Rugs.
Above: Restoration Hardware's Basket Weave Hemp Rug is a loose, open weave made of charcoal-colored hemp; $445.99.
Above: Available at Lost & Found, in Los Angeles, the Private Black Rug is a vintage, one-of-a-kind woven and patched hemp rug; $1,850.
For the lighter side of area rugs see our post 10 Easy Pieces: Neutral Wool Area Rugs and 7 Handwoven Rugs in Pretty Pastels. And sift through all of our posts on Rugs and other flooring options for more.
(Visited 189 times, 1 visits today)